Tonight!!! Open House and Future Fair! Starting at 5pm at the High School. Meet Teachers and Pick-Up Report Cards. Shortly after 5pm, join the counselors in the High School Library for how to plan. The Future Fair starts at 5:30pm in the HS Cafeteria. Recruiters from colleges, technical schools and military will be here! Go Panthers!!!

The Volleyball Lady Panthers upset Wimberly at home on Tuesday night with a 3-2 win and a 15-13 win in game five. Navarro improves to 4-2 in district play.

This Week at Navarro HS... First week of the second grading period T: VB at Wimberly 5/5/6pm W: Tennis vs. LaVernia, 4:30pm, Open House/Future Fair 5-6:30pm F: VB vs. IWHS 5/5/6pm S: Cross County at Poth, Band has three competitions

Find out what is happening at Navarro HS this week--Open House/Future is Wednesday and more Student Questions, Scarborough Answers.
https://youtu.be/LKCFYq9nOxw


Final: Navarro 28, Giddings 7. Go Panthers!!!!

Panthers last four plays: Rushing TD Two point conversion no good Recover on side kick Rushing TD

After recovering the on side kick, the Panthers score in a long touchdown run and have a 25-7 lead over Giddings with 5:19 left in the 3rd quarter.

Panthers score first in the second half and Stu 5:31 left in the third quarter take an 18-7 lead over Giddings.

Correct halftime score: Navarro 12, Giddings 7.

As the second quarter opens, Navarro scores on a rushing touchdown, extra point no good. Navarro 6, Giddings 7.

At half: Giddings 7, Navarro 6.

Our CTE Panthers representing today at the CTE Showcase in Seguin! Go Panthers!

Scheduled to appear at Future Fair... Texas Lutheran Univ. UT-Austin Univ. of Incarnate Word Univ. of Mary Hardin Baylor A&M Univ. Univ. of North Texas A&M San Antonio Austin College Tarleton Univ. Texas State Univ. Texas State Technical College Navy Marines FAME

Mark Your Calendars...Wed, Sept 28th is the HS Open House and Future Fair!!! At 5pm our counselors will talk preparing for life after high school. The Future Fair will officially begin at 5:30pm. Get report cards, meet teaches, and prepare for your future!!!

Congratulations to this month's Superintendent Scholars…(from left to right) Giovanna Coello, Kyleigh Whitlow, Austin Herrod, Taylor Helms.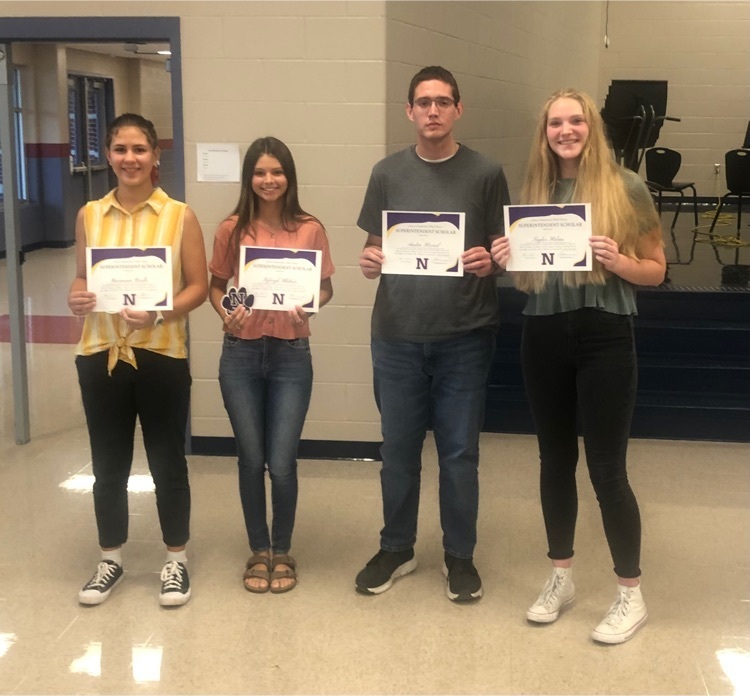 This Week at Navarro HS: Final Week of the grading period T: VB at Bandera 5/5/6pm W: Tennis vs. Karnes City, 4:30pm Th: FR/JV FB at Giddings, 5pm and 6:30pm, Dinner Theatre 7pm F: VB at Boerne 5/5/6pm, FB vs. Giddings 7:30pm S: Cross Country at Gonzales, Dinner Theatre 7pm


Final: LaVernia 40, Navarro 14.

End of third quarter: Navarro 7, LaVwrnia 33